ELPHICKS WINS! The Retas Awards 2023 – The Best Greeting Card Retailers In The UK
Picture this: you're walking into the most prestigious award ceremony in the greeting cards industry, and you're leaving with the RETA Award for Best Department Store Retailer of Greetings Cards. That's exactly what happened to our very own Sandie Jenkins, Stationery Buyer, and Alan Bushnell, Managing Director of Elphicks Ltd, at this year's extravagant RETA gala at The Grosvenor House Hotel in Mayfair.
To add an element of whimsy, this glamorous event was infused with a Van Gogh theme and hosted by comedian Jake Lambert, attended by 400 distinguished guests. The Retas, launched in 2005 by Progressive Greetings Worldwide magazine, annually celebrates brilliance across all realms of the greeting card industry.
Last year, the UK public spent a whopping £1.5 billion on greeting cards, and Elphicks triumphantly emerged as the leading department store retailer in the sector. In the words of Jakki Brown, Managing Director of Max Publishing, "The UK leads the world in greeting cards. They form a tangible proof to show you care, in the good and tough times. The passion shown by the winners of The Retas 2023 towards maintaining a unique selection of greeting cards, and their commitment to their communities makes them very special indeed."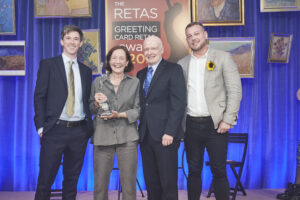 Winners in all retail categories were selected after an extensive industry-wide nomination process. On collecting the award, our Managing Director, Alan Bushnell, commented, "We felt incredibly proud and privileged to be standing on stage as the Winner of the prestigious RETAS Award for Best Department Store Retailer of Greetings Cards. It was made more special as we were competing against first-class retailers."
Thank you for your support as we continue to bring you the best in greeting cards, UK!